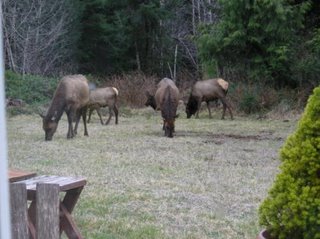 Remember back last Spring when I went to the coast to see my friend Barb? I posted quite a few pictures of her place, and one of them was a picture of "Elk Seed". Several of you scoffed at me then, well here is a picture Barb sent to me, in the same spot, and as you can see the Elk seed grew into a herd of 12 Elk, of various sizes, right off her deck!
Barb is living in Seattle, working, and she and her Husband had JUST finished their home, and she was commuting on weekends while Butch stayed and got the land in order, and the orchard planted, and the greenhouse built. Then tragedy hit and Butch died of a sudden heart attack, leaving Barb all alone to keep the place up and work her job in Seattle.
BArb has been going back to the homestead every other weekend to keep the yard in order and the wildlife out of the house. She finally put it on the market this spring and sold it right away for more than she asked.
Last weekend she was back there, packing up some things and getting ready for the big move, when she saw something out the window. There was a herd of 12 Elk, cows and yearlings, and they just stayed ther while she snapped away. In all the time she has been there, she has never seen the herd, Butch has often, but he has been dead now for over a year, and there they were on one of her very last weekends there.
I dont know what you believe, but I think it was Butch coming back to say goodbye.
His ashes are scatered there, just off the land in the national forest. Beautiful!!